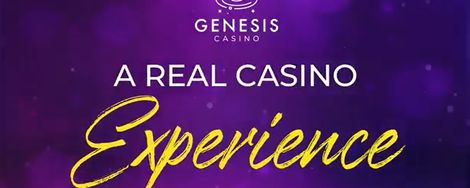 Join the excitement of the Live Casino experience this Friday at Casino Mauritius– straight from the comfort of your own home. Genesis Casino is offering you a thrilling evening at the poker table, the blackjack table, the baccarat table or the roulette table! 
Here's why you should play at the Live Casino at Genesis Casino!
Live dealer casino games are usually streamed over the internet, giving you an authentic experience while you watch all the live action as it unfolds.
Fan-favorites real-time games; Live Blackjack and Live Roulette just like in a real casino!
The Live Casino has special social features where you can interact with the dealer or other players at the table in real time camera view.
You can see every bet in real time! They can also see scanned cards on their interface, and know which cards are already out on the table.
You also have the chance to try a new strategy of counting cards in Blackjack or new Roulette systems.
Traditionally, there are multiple cameras at each table, therefore you are able to view the action through a variety of angles.
Poker:

How about a round of the most iconic online live casino game, Texas Hold 'em! This classic game combines both skill and luck, which allows you to win money by capturing the pot.

Roulette:

Let's not forget the simple game of chance where you guess in which hole the ball will drop on the spinning wheel.

Blackjack:

Play the most popular table game worldwide where you can try to beat the dealer's hand without going bust (ie, over 21).

Baccarat:

If you're a high roller and or a player with a bigger budget, you will definitely love live baccarat, a relatively easy game to play which becomes even more authentic at a live dealer casino.
You can explore all these exciting live casino games at Genesis Casino. And we are just getting started. Stay tuned for next week!