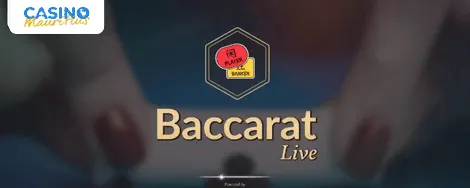 If you're a real thrill-seeker, then perhaps Live Baccarat is just for you! Known as the most glamorous of all casino games, Baccarat's trappings are what makes it so popular. The beauty of the game? You don't need any skill – just pure luck! Live Baccarat is played for very high stakes, so you can expect even higher winnings.
Why play Live Baccarat?
Casino Mauritius is bringing the baccarat table right to you. When you log in, the whole casino experience is presented to you right there. 

The banker is an actual person dealing in real-time, and is fully equipped with a headset and a microphone. Therefore you are able to have a clear conversation with the dealer.

Live Baccarat is streamed over the internet so you can watch the action unfold as it is happening through real-time camera view. 

Since Live Baccarat is all about luck, you have the chance to fill your pockets with some serious cash. 
Live Baccarat is exactly the same as traditional Baccarat, all you have to do is beat the Banker (dealer) by having a hand value closest to 9. The game is played with eight decks of 52 cards, and prior to each deal, you can wager on whose hand will win. You can even bet on the Banker's hand!
So what are you waiting for? The most exclusive Live Casino game has a seat ready for you! You can be your own boss and decide which type of baccarat best fits you. No matter which variation you choose, Live Baccarat is a very simple game to play with little strategy needed. Select your favourite version from our Live Baccarat section at Casino Classic now.