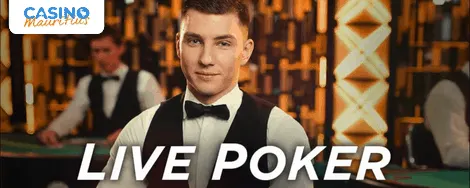 Poker is the heart of any casino! All you need is some skill, experience and a little bit of luck to play Live Poker at Casino Mauritius. Who will have the best hand or trick the other players with their clever bluffing skills? 
Casino Classic offers a wide range of Live Poker variants; 
Live Casino Hold'em
Live Casino Hold'em is a spectacular variant of five-card Poker in which you can play against the dealer and not each other. You must beat the dealer's hand by getting the best possible five-card hand, made out of the two cards dealt to you and the five community cards.
Live 2 Hand Casino Hold'em
Live 2 Hand Casino Hold'em is a Hold'em variant that gives you two chances to win on two individual hands against the dealer, plus an optional, easy-to-play Bonus bet for you Poker lovers.
Live Three Card Poker
Live Three Card Poker is a fun, fast-paced game based on the hands of just three cards. This game is perfect for Poker newcomers and there are numerous exciting ways for you to beat the dealer, so it's major fun for Poker enthusiasts too. You must compete against the dealer who must get a 'Queen High' to play. 
Live Texas Hold'em Bonus Poker 
Live Texas Hold'em Bonus Poker differs from traditional multi-player Texas Hold'em Poker, in that it is played against the dealer and there is no bet after the River card. There's also a double bonus for players too, in the form of two optional side bets – Bonus bet and the First Five Progressive Jackpot side bet. 
Casino Mauritius is inviting you to a weekend of Live Casino fun, and you are only a few clicks away from a real casino experience all from the comfort of your own home.