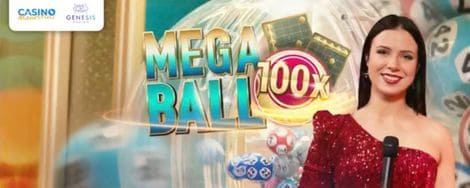 Hey Live Casino lovers! This weekend we've got the fast-paced, super simple Mega Ball Live. All you need to do is set the value of your card and buy your desired number.
Watch in anticipation as 20 balls are drawn out and any one of them could be your chosen number. And you know what that means.. huge wins! Don't forget to look out for the Mega Ball Multiplier at the end of each round, with a chance of winning up to 1,000,000x. 
In Mega Ball Live, 51 Balls are released in a machine. 20 balls will be drawn in a row. If a drawn ball matches a number on your card, rows get filled. The cards are also automatically re-arranged in the user interface, with the one closest to winning placed at the top. The numbers you need in order to win big will be highlighted above the cards together with possible winnings if these numbers were drawn. The more rows are filled on your card, the more money you win.
After that, The Big Wheel with all the multipliers between 5x-100x is generated. The multiplier is for the Mega Ball. If the Mega Ball completes a line, players' winnings are multiplied accordingly, with a chance of winning up to 1,000,000x!
Mega Ball Live from Genesis Casino can be played on both PC and Phone. You can expect real success in Mega Ball Live since it allows for some intense prizes. Buy cards and watch the money come rolling in one ball after another! Play this exciting game full of suspense now at Casino Mauritius.