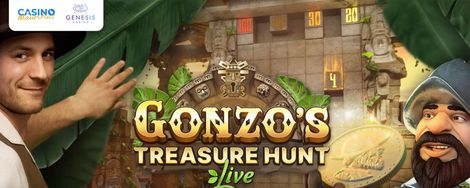 Join Gonzo on his quest for treasure in an adventurous slots-inspired Live Casino Game. Gonzo's Treasure Hunt Live is based on the hugely successful video slot Gonzo's Quest, this live version features Gonzo, a Spanish explorer who has been tirelessly searching for the lost golden city of Eldorado. And now you get to be part of the treasure hunt to find our biggest prizes ever at Casino Mauritius!
The main game features a giant wall comprising 70 stones, and this is the foundation for prizes. All you have to do is search for hidden treasures by selecting stones. The stones also have a Prize Drop feature allowing supersized winnings of up to 20,000x.
Select Stones and Picks
First, you have to select the stone you will be hunting for. There are 6 stones in total, all of different payout values. The higher the payout, the less likely it is to appear. Next you choose how many Picks you want to buy. More Picks give you higher chances to find your stone, but it comes at a price.
Treasure Hunt
Now is time for the actual hunt! The stones on the wall are mixed around and the value of the stones are hidden. Look for treasures by choosing stones, depending on available Picks.
Prize Drop
Gonzo will then use his golden key to trigger the Prize Drop and this is where all the excitement begins. Bonus prizes, Multipliers and Redrop symbols will drop down and stop at a randomly selected stone, adding to the value of the hidden stone.
Revealed True Stones
At the end of the game, the wall will finally reveal all the stones' values, and you can see if you've been successful in the treasure hunt.
It's a super unique combination of a slot and a Live Casino Game. Gonzo's Treasure Hunt Live can be played across various device types such as Desktop PC, Tablet, Android/iPhone. It is also the first Live Casino game available in Virtual Reality mode. That's right! If you have a VR headset, you can have a 360-degree view of the game. Play Gonzo's Treasure Hunt Live from Genesis Casino and win up to 20,000x your bet now!