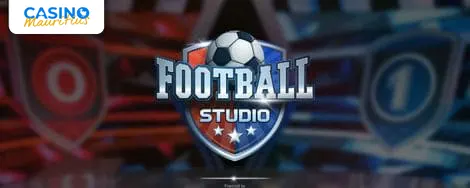 Calling all football fans to the pitch! This weekend, we've got Football Studio Live from Casino Classic. This game is sure to impress those of you who follow top tier football leagues and the best part is that it's played in the simplest ways imaginable. All you have to do is back the higher card in the duel and you are the winner. The most popular sport in the world has finally come to the Live Casino world and it is waiting for you. Score some awesome wins at Casino Mauritius today!
How to Play Football Studio Live
The live dealer takes two cards from a shoe of eight decks which are on his disposal and assigns to you one card. You may be either on the home side and the away side. The table is purposefully designed as a 3D animated football pitch where you'll be on opposing sides with other players. You simply bet one of the three possibilities; a Home win or Away win or a Draw.
The rules are very easy to understand. If you bet the higher card in the match, you win. If the two cards are the same, then whoever has backed the draw outcome are the winners.
As with other Sportsbook games, there are certain rules in Football Studio Live that give you an upper-hand. If you bet on the Draw outcome and on a Home or Away Win, there is a catch. If the hand results in a draw, those who backed Draw are paid out 11:1. In addition to this, those who backed Home or Away also get half of their bet back. Backing either Home or Away Win always doubles your wins as the two outcomes are at evens.
Football Studio Live also features an animated backdrop displaying the winning streaks of either Home or Away, as well as live match updates, from a number of football fixtures in the user interface, to thrill football fanatics. Another key feature which makes Football Studio Live so unique is the live chat option. With it, you can talk with the dealer about everything that involves football.