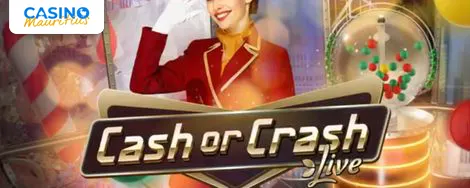 All aboard! The blimp is about to take off and bring you on an amazing journey over the busy metropolis. Cash or Crash Live from Casino Classic gives you the chance to soar higher and higher towards huge wins. In this easy-to-play tactical Live Casino game, your ticket is your bet and you have the opportunity to climb the paytable as high as possible. You can either Cash or Crash depending on which balls are drawn out. Be ready to be propelled towards a sky full of rewards at Casino Mauritius this weekend.
A live game show host controls the whole process and a lottery-type bingo machine is used to randomly select Red, Green or Gold coloured balls. The objective of Cash or Crash Live is to climb up the 20-step payout ladder before a Red ball is drawn because that will cause the blimp to crash, and all your winnings along with it. 
This game gives you 3 options to play with: 
Take out all your winnings and cash out.

Take half of your winnings and ride with the other half.

Let all your winnings ride with your fate based on the next ball drawn. 
There are 3 types of coloured balls:
Green, which allows you to climb the paytable

Red, which causes the crash along with the loss of your winnings

Gold, which provides a shield against the next Red ball drawn. 
Let's see what's in store for your future with Cash or Crash! Will you be able to reach the sky and fill your pockets to the max, and will you crash down? Only playing this unique game will tell. Play Cash or Crash Live at Casino Mauritius now and take a leap of faith towards buckets of cash.