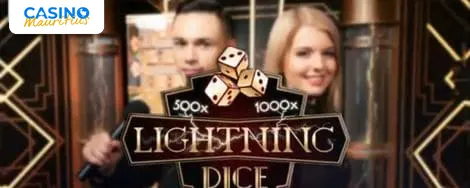 This weekend, Casino Mauritius invites you to discover Lightning Dice Live, a new Live Casino game that is the very first of its kind. Those who are table game fanatics and also slots and bingo fans will be truly amazed by this simple yet highly entertaining dice game which includes multipliers of up to 1000x for an extra boost of rewards.
Live Lightning Dice – The Basics
Lightning Dice is played with three regular six-sided dice. You may bet on the total sum of all three dice by betting on any of the spots marked from 3 to 18. You also have the option to 'Bet on All' which will place your bet on all 16 spots simultaneously.
The dice are then rolled accordingly and the bets placed on the total of all three dice will be paid out according to the table below.
Dice           Total Payout
3 or 18 —–149:1 to 999:1
4 or 17 —–49:1 to 499:1
5 or 16 ——24:1 to 249:1
6 or 15——-14:1 to 99:1
7 or 14——-9:1 to 99:1
8 or 13 ——–6:1 to 49:1
9 or 12——-5:1 to 49:1
10 or 11——-4:1 to 49:1
Lightning Multipliers
Before the dice are rolled, lightning strikes will hit the table, hitting at least one number. This number is given a random multiplier from 50x to 1,000x.
Any bets placed on these Lightning Numbers will win the marked multiplier instead of the standard payout, with a maximum possible win of 1,000x your bet.
The game features a very interesting User Interface, black and gold Art Deco studio environment, and has an unlimited number of seats, which means it is available to play 24/7. Head over to Casino Classic now to start placing some bets.