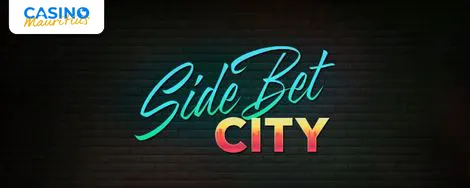 Ready for a retro-style innovative Live Casino card game? Casino Mauritius is calling all Live Poker lovers, because Side Bet City Live is just perfect for them. In this one, you can forget about the main hand completely because it's all about the side bets. Form the best three or five-card poker hand to win your corresponding payouts depending on your bet. This game definitely gives you an 80s vibe, along with its simplistic features. Play Side Bet City Live at Casino Classic now. 
Side Bet City Live Game Features
If you have any knowledge of Live Poker, then this game should come simple to you. The first thing you must do is bets. You can place a bet on the 3-card, 5-card, 7-card, and All Lose outcomes. After that, the dealer will deal the seven cards from one deck. The first is the 3-card hand, followed by two sets of 2 cards. These form the 5-card and 7-card hands.
Another fun feature of Side Bet City Live is that an unlimited number of players can join in. Therefore, your seat is ready anytime, anywhere!
The live dealers are dressed like Don Johnson and have that American 80s feel. This all makes for an authentic 1980s feeling which is sure to bring you back in time to such an iconic era. 
In addition, Side Bet City Live also comes with some awesome graphics. The different hands and their odds are shown perfectly on the right hand side of the screen. Also, with only the touch of a button, you can expand the live chat option.
Side Bet City Live is an electrifying game from Megapari Casino that can give you the buzz you need. A Live Casino experience full of fun for a leisurely game of poker with big potential wins.