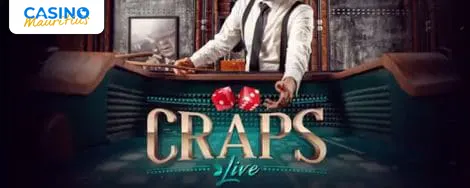 That's right! We are bringing your favourite land-based casino game to the live casino world. Live Craps is a unique and extremely fun speakeasy-themed game that is sure to take you back in time. It's easy to play because all you need to do is predict the outcome of the roll of 2 dice. So simple! Casino Mauritius is ready to help you reap in big potential wins with Live Craps. 
Live Craps Features
My Numbers is a cool feature that makes it easier to play Craps. Each number represents a possible total from the throw of the dice. It shows you the number you need to win together with possible payouts.
If you're a newcomer, then play the Easy Mode. Easy Mode caters for those who want to play the game with fewer betspots. The user interface changes and you're now playing with a smaller betting grid where only the easiest to understand bet spots are available.
And yes, there is also an interactive built-in Craps Tutorial, where you will get all the help that you need to learn how to play Craps and what the different bets do.
The Dynamic Statistics boards on the studio wall lets you see all the bets being placed. Excitement builds as you can see how other players are betting in real time.
As a cherry on top, Craps Live allows you to cheer while waiting for the results, and even when you're not placing any bets during the current role. There is also a chat room, where you can discuss roles with your fellow live casino lovers, as well as chat with the always pleasant live dealers.