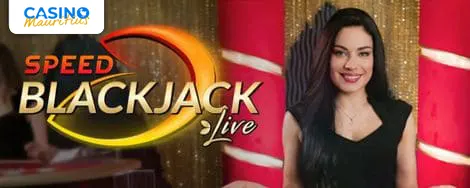 Ready for a next level Live Blackjack experience with Casino Mauritius? The exhilarating Speed Blackjack Live brings regular Blackjack to a whole new world where you can bet only against the live dealer and not other other players! It's a fast-paced Live Casino game full of excitement. If you're a Blackjack lover, then Casino Classic definitely has this treat for you. Join us over at Casino Mauritius now to play Speed Blackjack Live. 
Speed Blackjack Live has revolutionized the classic Live Casino Game because you no longer need to wait for other players to make decisions. It's a much faster version where you need to act quick and think even quicker. 
Speed Blackjack Live has the same rules as regular Live Blackjack, except for the dealing order. You will be dealt the first two cards with the aim of beating the dealer's hand. Ace can be one or eleven, and J, Q, K count as 10 each. After being dealt the first two cards, all the players on the table can Hit, Double Down or Split pairs and Aces. If you're the fastest one, you will get their next card dealt first. This continues until all the players make their decisions and there are no more cards left.
The look and feel of Speed Blackjack Live will have you living in pure class. You will play at a luxury Blackjack table, with an elegant  beautiful dealer, in amazing stream quality. Due to the fast nature of Speed Blackjack Live, there may be less dealer interaction and chat activity.