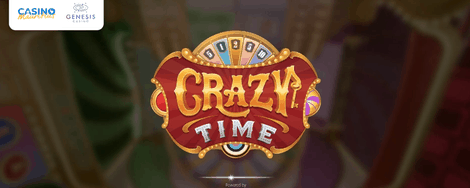 Crazy Time is a very cool Live Casino game show based on the Dream Catcher money wheel. With multipliers up to 25,000x and four eye-catching bonus rounds, the crazy fun hits a new high! It's such an interactive and exciting game that can pack one hell of a punch and Casino Mauritius is bringing all the action directly to your screen!
All the action unfolds around the main game and the four awesome bonus games.
Main Game
The Top Slot generates one random multiplier for one random bet spot – either a number or a bonus game. This multiplier will either multiply a bet on a number or multiply the multipliers in a bonus game – it all depends on if the main wheel also stops at this bet spot!
Cash Hunt Bonus Game
Cash Hunt features 108 random multipliers. The multipliers are hidden by symbols and are mixed around. All you have to do is choose the target where you think the largest multiplier is hiding. The cannon will shoot at the target and reveal the won multiplier when the time runs out. 
Coin Flip Bonus Game
You can win a multiplier with a flip of a coin. Before the coin is flipped, two multipliers will be shown, one that applies if the red side wins, and one for the blue side!
Pachinko Bonus Game
This bonus game features a large Pachinko wall with a multitude of physical pegs. The live game presenter drops a puck and you will win the multiplier where the puck lands. Easy!
Crazy Time Bonus Game
In this virtual world, you have to choose your flapper on the money wheel before the game begins. When the wheel stops spinning, you can win the multiplier where the flapper points at.
Crazy Time can be played both on mobile and desktop, all in real time camera view. The amount of action and excitement in Crazy Time is truly revolutionary and makes an amazing addition to the Gameshow world. You will be begging for more! Get Crazy now with this awesome Live Casino Game Show available at Genesis Casino!